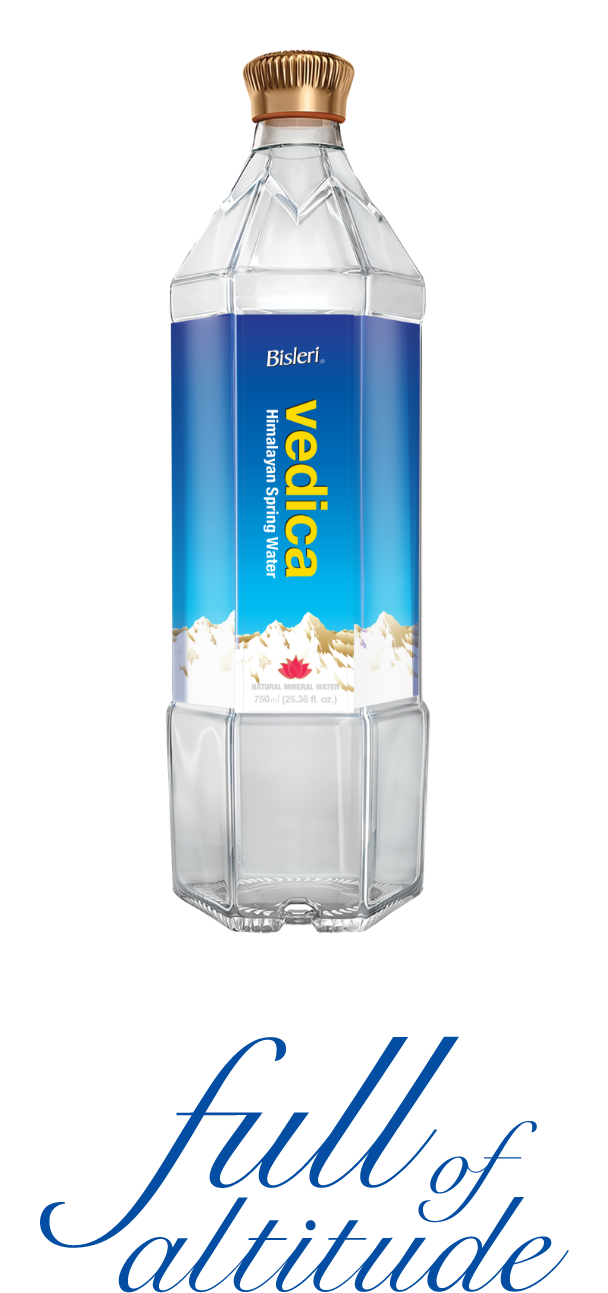 CONTACT US
Bisleri International Pvt Ltd, Western Express highway, Andheri east, Mumbai-400099.

export@bisleri.co.in
1800 120 0007

Sales Team
Available Near You
THE SOURCE
Born of a clear spring, that for centuries has traversed a labyrinth of mineral enriched bedrock, before gushing out to the surface, Vedica is natural Himalayan water.
Its underground geological origin and natural silica fortification bestows on it the blessing of being uncontaminated and free from any kind of microbial activity.
Rich in sulphates, which are natural detoxifying agents, Vedica carries with it the ancient secrets of nature to cleanse, restore and replenish.
WITH A PH VALUE HIGHER THAN OTHER MOUNTAIN WATERS, VEDICA IS MORE ALKALINE AND HELPS NEUTRALIZE ACIDS AND REMOVE TOXINS
A lower calcium and magnesium content also ensures a distinct and sweet taste. Savour the taste of Vedica, and discover the goodness of the Himalayas in every sip.


THE STORY
It began with a quest.
To find the purest water in the world.
And it turned into a pilgrimage of sorts.
A pilgrimage that witnessed
the sacred purity of the mighty Himalayas.
That absorbed the serenity of Mount Kailash.
That took in the untouched magic of Mansarovar.
And ended at a spring.
Where every drop of water was blessed.
By nature, by snow, by the mineral enriched rocks
it meandered through.
This was nature at its finest.
This was Vedica.
Vedica is available in four pack sizes- 250ml, 500ml, 1l PET bottles and 750ml glass bottle.